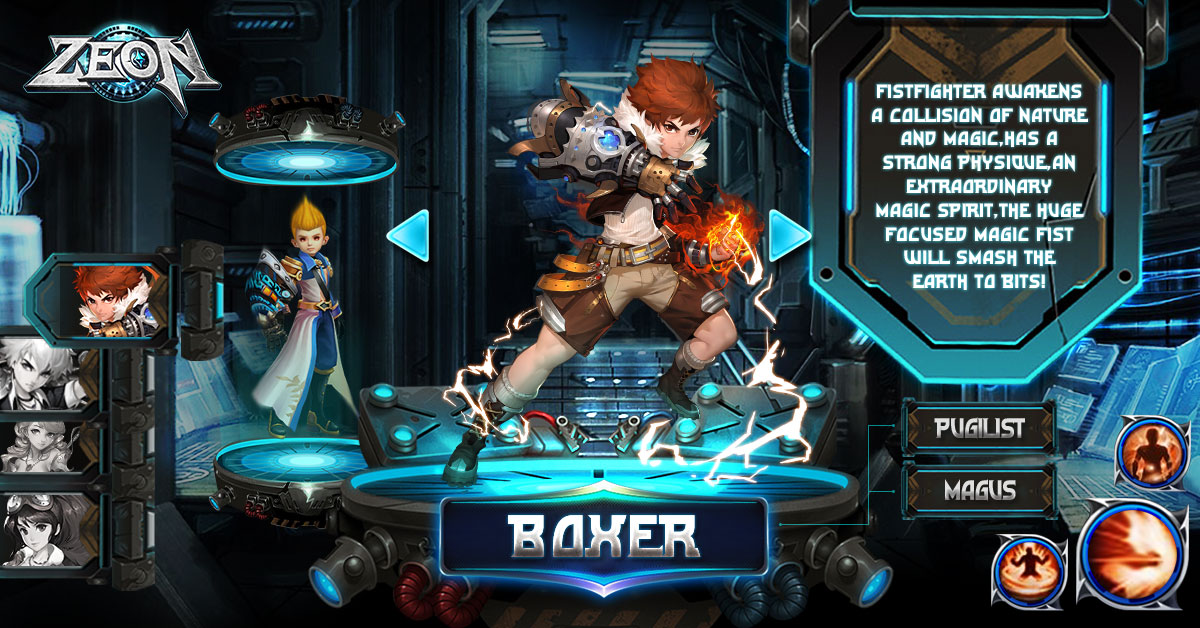 【Class Info】:
The Boxer dawns upon the collision of nature and magic, which has a toned body and outstanding magic soul. With magic infused fists, Boxer can easily shatter the earth.
【Class Change】:
The Boxer serves as a Class which is well balanced between attack and defence abilities. After class change, players can choose to become Fighter or Duelist. Fighter is an attack specialist with some basic control abilities that makes Fighter a well-balanced class in controlling, damage output, and survivability.
For Duelist, control is the core, and damage output as sub, possessing strong and powerful control skills. Duelist serves as a very good field-controlled Class whether fighting alone or as a team support.
Fighter
【Attack Range】Melee
【Attack Type】Magic Attack
【Damage】★★★☆
【Control】★★★
【Survival】★★★
【Support】★
【Skill info】
1. Sudden Step: Blink to the target, and silent at the same time
2. Thunder Clap: Deal damage and slow the target
3. Shadow Slaughter: Deal a large damage to the target and have certain chance to deal additional hit.
Duelist
【Attack Range】Melee
【Attack Type】Magic Attack
【Damage】★★
【Control】★★★★★
【Survival】★★☆
【Support】★
【Skill info】
1. Storm Guide: Pull the target with magic chain and forbid the target to jump
2. Wind Prison: Deal damage and stun the target
3. Phoenix Fist: Deal a sustained damage to target